Tony Iommi Has Trouble Comprehending Black Sabbath Impact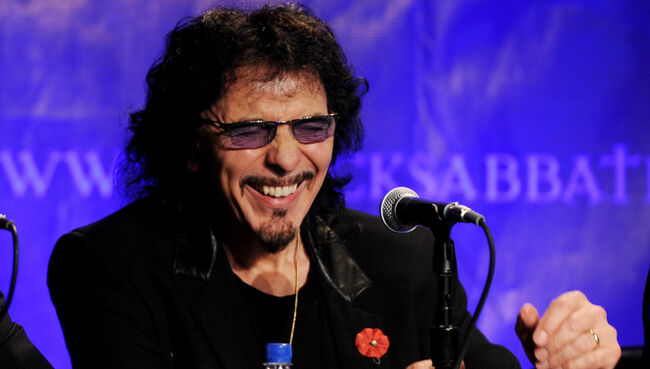 From Iron Maiden, to Metallica, to Soundgarden, to Slipknot, to Ghost, when you spawn an entire genre of music, you're bound to have your share of admirers.
Black Sabbath guitarist Tony Iommi says it's hard to keep track of them all. In fact, he says he's bound to blush a little when he hears so many great bands heap praise upon his life's work.
"It's fantastic," he told The Herald. "I'd never have thought that would happen and it amazes me even now. It's great to have been able to create something that's still there after all these years, and got bigger and bigger. The amount of bands I've met over the years from Metallica onwards who have praised me for coming up with the ideas has been brilliant. It's almost a bit embarrassing."
While Iommi and his Black Sabbath band mates admit that it's hard to say whether they truly invented heavy metal as they are often credited, the band is certainly a touch-stone in music history.
If Black Sabbath didn't invent heavy metal, it at least accelerated the ensuing revolution extreme music.
The band is so influential that there are entire sub genres of heavy rock that can be traced back to specific Black Sabbath songs or albums, be it the Ozzy Osbourne or Ronnie James Dio-era.
Since he moved to a new home after Black Sabbath's The End tour, Iommi says he's been playing guitar every day.
The guitarist has pledged to record another solo album this fall or winter with the help of engineer/producer Mike Exeter, who recorded Judas Priest's acclaimed 18th studio album, Firepower, last year.
"I'm still writing stuff; I've put ideas down on tapes," he said this summer. "When all this nice, sunny weather goes and it gets grim, I shall start going in the studio and putting it down."
Photo: Getty Images