Anniversary of the Release of "At Filmore East"
The Allman Brothers Band's "At Filmore East" might well be the best-ever live rock and roll album. Actually, it was a two-disc live album of rock, blues, and jazz, recorded at the legendary Fillmore East in the East Village of New York City over two nights: March 12 and 13, 1971. Tom Down was the album's producer.
Today (July 6) is the 46th anniversary of the album's release.
It features such classic jams as a 23-minute version of "Whipping Post" and a 13-minute jam of the instrumental "In Memory of Elizabeth Reed".
Just as amazing as the band and the recording over those two nights in March, 1971 is the story that goes with the shooting of the Allman Brothers cover.
According to Skydog: The Duane Allman Story by Randy Poe, the band was originally photographed for the album cover under the Fillmore East marquee. But no one liked he results.
So famed New York cover photographer Jim Marshall was sent 900 miles south to Macon to photograph the band.
At a roadie's suggestion, they decided to shoot it against a brick wall across from the studio. They also decided to photograph the roadies for the back cover at Duane's suggestion. One of the longtime roadies, Red Dog, was not there that day so they put his picture up top afterwards.
According to Greg Allman's autobiography, Not My Cross to Bear, Marshall could not get the band to smile for the longest period of time. Also, it was a cold day and they were shivering.
Toward the end of the session Marshall told them "Just one more roll..." and went about putting another negative roll into his camera. Just at that moment, Duane sees his drug dealer walking down the street. Quickly Duane got up, made his purchase, ran back, and hid what he had bought behind his hands in his lap.
The whole transaction between Duane and his supplier got the rest of the band feeling giddy, and they all stated laughing, which is precisely when Marshall got his long-awaited shot.
Here's the front cover again, so you can see the magic moment when they all laughed at what Duane (2nd from left) was hiding behind his hands.
(Photo by Jim Marshall)
And here are roadies, along with the photographer, Jim Marshall, with arms crossed at right.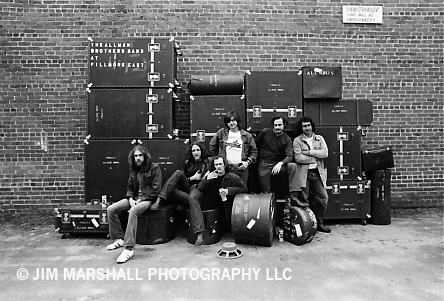 (Photo by Jim Marshall)
A color version of the front cover photo was used for Chronicles, the two-CD set that combined At the Fillmore with some live songs recorded at the same time from Eat a Peach.
Check out more info about the album cover, plus photos of where the Filmore stood in NYC.
CLICK HERE FOR THE ARTICLE

Mike Steele
Want to know more about Mike Steele? Get their official bio, social pages & articles!
Read more