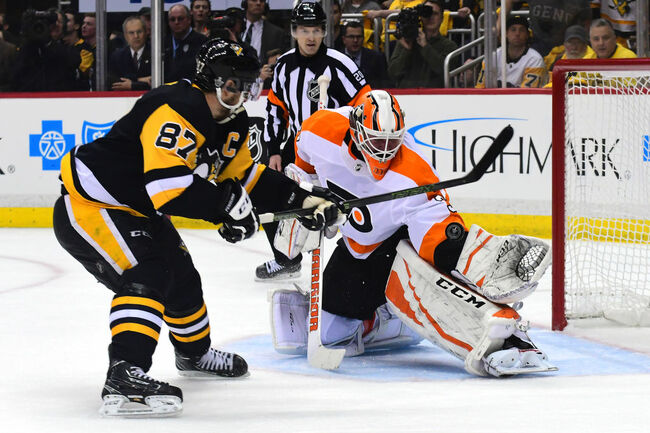 At least by the latter stages of the third period, the crowd _ what was left of it, anyway _ had stopped booing the Penguins' power play and started booing the referees.
The fans venting in such a fashion was as understandable as the Pens' 5-1 loss to the Flyers in Game 2 of the Eastern Conference Quarterfinals had been head-scratching.
The Pens had more zone time, more shots, more attempts and more quality scoring chances than they had mustered in their 7-0 drubbing of Philadelphia in Game 1. And it was their best players who were in position more often than not to do some serious damage.
Evgeni Malkin had more looks from the face-off circle than Alex Ovechkin during one second-period stint with a man-advantage.
Sidney Crosby had a breakaway with all the time and space he could ever hope to enjoy.
Crosby also had a tip from the right post at an unguarded net and managed to miss on the far side with just seconds to play in the second.
The Penguins' captain looked to the rafters in exasperation after that one.
Then he broke his stick on the cage in frustration.
Crosby also caught a post in the final minute of the third (a regular occurrence for the home team in Game 2) with Matt Murray pulled and the Penguins desperately trying to score again for the sake of scoring again even though the game was already lost.
Friday night was that kind of night for the Penguins.
If Brian Elliott can do that again three more times, Philadelphia should feel free to stage another parade.
This wasn't the Penguins coming out complacent or less than engaged after their series-opening blowout.
This, for the most part, was the Flyers manufacturing a couple of opportunistic goals and the resurrection of Ken Wregget in the other net.
Or, perhaps, Bernie Parent.
The road split to open the series the Flyers gleefully took back to South Philly shouldn't be cause for alarm.
But if the Penguins aren't disappointed about the way they reacted after Sid's Fit and after Travis Konecny overwhelmed Chad Ruhwedel and made it 3-0 a mere 1:29 into the third, they ought to re-evaluate their position.
Third-period penalties taken by Bryan Rust and Patric Hornqvist picked up where Crosby had left off and betrayed the frustration the Pens had succumbed to by then, even though there was still plenty of time remaining and the deficit still wasn't insurmountable.
Mike Sullivan has taught them to be more resilient than that, to be mentally tougher than that, to be better than that.
Instead, a flashback meltdown occurred.
The other situation that had better be dealt with sooner rather than later is the power play.
The Pens went 0-for-4, and that's not an 0-fer they're going to be able to afford very often.
As combustible as they remained this season, their record-setting power play was a huge part of what they accomplished and remains critical to what they're capable of yet achieving.
It can be the great equalizer on nights such as Friday night, when the puck seemingly otherwise refuses to go in the net.
But for that to happen they have to keep shooting and resist the periodic temptation to get too cute.
Crosby will have no choice but to try a new stick in Game 3 on Sunday afternoon in Philadelphia.
Let the necessary response to a loss that's more frustrating than potentially devastating begin there.
Photo courtesy of Getty Images

Mike Prisuta's Sports Page
Want to know more about Mike Prisuta's Sports Page? Get their official bio, social pages & articles on 102.5 WDVE!
Read more