The 53 they'll bring to Cleveland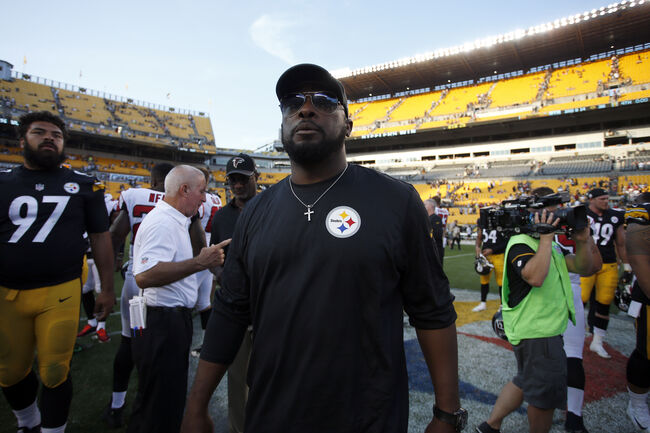 There's just one cut this preseason, to 53 players by 4 p.m., New York time, on Sept. 2.
But we really don't need to wait until then.
Injuries may yet alter the equation.
And it's likewise plausible the Steelers may yet have their eyes on a player (or two) who is currently on someone else's roster but won't be by 4:01 p.m., New York time, on Sept. 2.
But failing either one of those eventualities, the 53 players the Steelers intend to ready for Cleveland on Sept. 10 are identifiable in advance of Saturday night's preseason test against Indianapolis.
All things being equal, the roster will ultimately look something like this:
(starters in caps, years of experience in parentheses):
OFFENSE (24)
QUARTERBACK (3) _ BEN ROETHLISBERGER (14), Landry Jones (5), Joshua Dobbs (R):
This was destined to work out this way since draft day. Dobbs has established he's worth working with, but the search for Roethlisberger's eventual replacement continues.
RUNNING BACK (4) _ LE'VEON BELL (5), Knile Davis (5), James Conner (R), Roosevelt Nix (3):
Davis hasn't shown much but he's a veteran with an NFL track record and he was brought here for reasons that include special teams (kickoff returns). The situation is still subject to change but for now the job of Bell's backup is Davis' to lose.
TIGHT END (3) _ JESSE JAMES (3), David Johnson (9), Xavier Grimble (2):
It's a blue collar group but one that provides the Steelers enough to work with given what they want from the position. At least they won't spend the majority of this season waiting on Ladarius Green.
WIDE RECEIVER (6) _ ANTONIO BROWN (8), MARTAVIS BRYANT (3), (slot) ELI ROGERS (3), JuJu Smith-Schuster (R), Sammie Coates (3), Darrius Heyward-Bey (9):
This unit is potentially spectacular unit, but hold your breath on injuries, suspensions and attention to details. Heyward-Bey's contributions will mostly be on special teams and in setting a professional tone as it relates to work ethic and preparation. The Steelers value that and value Heyward-Bey for providing as much.
OFFENSIVE LINE (8) _ ALEJANDRO VILLANUEVA (3), RAMON FOSTER (9), MAURKICE POUNCEY (8), DAVID DECASTRO (6), MARCUS GILBERT (7), B.J. Finney (2), Chris Hubbard (4), Jerald Hawkins (2):
The starters have an argument as the best offensive line in the Roethlisberger Era (as does the Marvel Smith-Alan Faneca-Jeff Hartings-Kendall Simmons-Max Starks line that helped beat Seattle in Super Bowl XL). Hawkins' performance in training camp was disappointing given his pedigree, but after missing 2016 due to injury this is basically his rookie season, so he'll be kept around to continue developing.
DEFENSE (26)
LINE (5) _ CAM HEYWARD (7), JAVON HARGRAVE (2), STEPHON TUITT (4), Tyson Alualu (8), L.T. Walton (3):
They can get by with five if Walton can prove reliable as a backup on the nose as well as at end. Tuitt anticipates having a monster season. With Heyward back, Tuitt just might. Alualu will turn out to be an underrated free-agent addition.
LINEBACKER (10) _ BUD DUPREE (3), RYAN SHAZIER (4), VINCE WILLIAMS (5), T.J. WATT (R), James Harrison (15), Tyler Matakevich (2), Arthur Moats (8), Anthony Chickillo (3), L.J. Fort (3), Steven Johnson (6):
Everything falls into place if Shazier stays healthy (he's missed 14 regular-season games over his first three campaigns). Yet to be worked out is when and how much Harrison plays (the suspicion is he's going to do more than just pitch a little relief late in games).
SECONDARY (11) _ ARTIE BURNS (2), SEAN DAVIS (2), MIKE MITCHELL (9), ROSS COCKRELL (4)/COTY SENSABAUGH (6), (nickel) WILLIAM GAY (11), Mike Hilton (1), Robert Golden (6), Jordan Dangerfield (2), Cam Sutton (R), Brian Allen (R):
A unit of potential, but also one that's still young and unsettled, and the depth is questionable. Press-man coverage and DB blitzes might finally be the answer against New England. Burns and Davis picking up where they left off last year and continuing to get better will be essential for the DBs and for the Steelers.
SPECIAL TEAMS (3) _ K CHRIS BOSWELL (3), P JORDAN BERRY (3), LS COLIN HOLBA (R):
The assumption all along has been the draft pick will emerge as the winner of the long-snapper competition. Kameron Canaday delivers a little more velocity but Holba is a little more accurate.
Bring on the Browns.
Image courtesy of Getty Images

Mike Prisuta's Sports Page
Want to know more about Mike Prisuta's Sports Page? Get their official bio, social pages & articles on 102.5 WDVE!
Read more