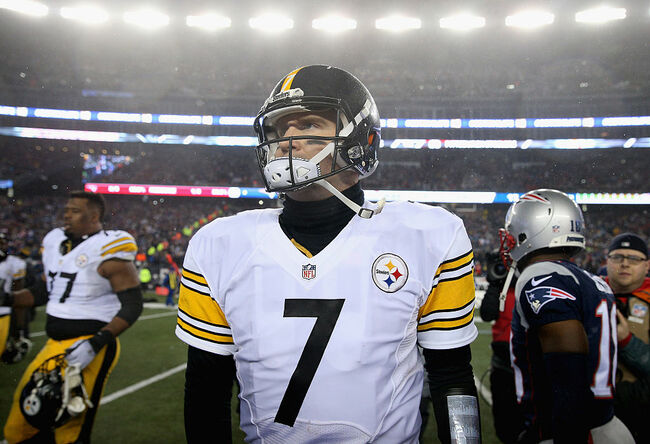 LATROBE _ The story of the offseason was Ben Roethlisberger contemplating retirement.
The story of the preseason is that hasn't changed.
"My wife wants me to retire right now," Roethlisberger acknowledged a day after his arrival at St. Vincent College.
Instead, he'll play this season, his 14th with the Steelers.
Beyond that, there are no guarantees.
As it turns out, Roethlisberger's initial revelation last offseason that he was thinking about leaving the Steelers and about leaving the game wasn't just the frustration talking after yet another loss to the Patriots.
It wasn't an attention-grab or a calculated power play.
The franchise quarterback is year to year until the year comes when he won't be here.
And that could be sooner as well as later.
"Did you think I was lying?" Roethlisberger asked me during OTAs when the subject of how seriously he had considered quitting was raised.
Lying? No.
But playing an angle or an agenda? Absolutely.
Not anymore.
"That new CTE study that came out is obviously very alarming," Roethlisberger admitted in a one-on-one interview prior to the first practice of his 14th training camp. "My wife wants me to retire now. What wife, if you really cared about your husband, wouldn't they all be considering that?
"I made the comment to her, 'I want my kids (ages 4, 3 and 1) to remember what I did, to really know and understand what I did.' Her comeback was, "Well, you also want to remember your kids.' Touché, good point."
Hence the acknowledgement that this year might be _ might be _ the last year.
"In five years could we be having this same conversation? Yes," Roethlisberger said. "Could it be next year? I don't know, and that's why I'm not going to look past this year.'
Given the Steelers' potential, looking beyond 2017 would be a mistake in anyone's case, particularly Roethlisberger's.
He's healthy and still at the top of his game.
He'll have an array of weaponry at his disposal, once Le'Veon Bell signs and Martavis Bryant, presumably, is fully reinstated from suspension, like never before.
He'll be playing behind perhaps the best offensive line that's ever protected him in Pittsburgh.
And the Steelers are unquestionably Roethlisberger's team, now more than ever.
"He's still the boss, still my coach," Roethlisberger said of Mike Tomlin. "But I think it's grown into as much of a peer (relationship), we communicate, we talk. It's almost like he's coming to me asking me about certain guys on the team, what's going on off the field. I think he kind of uses me as a player-coach in a way.
"I think we have a great relationship."
What more could a quarterback want?
"I want to be able to play catch with my kids when I'm older," Roethlisberger said. "I want to be able to go to games. I want to be able to coach them at home and do fun things like that.
"And to do those things I need to have my brain. I need to have my arms, my knees. I need to be able to do those things."
He doesn't yet know what he'd do without football, other than devote himself to being "the best father and husband I can be."
But he's close enough to leaving to have already contemplated his football legacy.
"When I'm done, I think people may look back and say, 'Boy, he was better than we thought,' or, 'We should have appreciated him more at the time,'" Roethlisberger said. "I don't know if that's the case.
"I just hope that when I am done people will just smile and say, 'Man, we had a good one.'"
Photo courtesy of Getty Images

Mike Prisuta's Sports Page
Want to know more about Mike Prisuta's Sports Page? Get their official bio, social pages & articles on 102.5 WDVE!
Read more