Cowboys' Jerry Jones: Drop Prohibition on Pot Use
After years of trying to get the NFL to overturn its marijuana policy, the NFLPA might finally have someone in its corner who can actually make that happen: Jerry Jones.
According to Pro Football Talk, Jones and the NFL's 31 other owners held a private meeting at the Annual League Meeting in Phoenix last week, and during that private meeting, Jones told the other owners that he wants the NFL to "drop its prohibition on marijuana use."
Jones, who is already one of the most powerful owners in the NFL, probably just became the most popular among players with that one statement. Despite the fact that Jones wants the marijuana policy to change, apparently, he was reminded by his fellow owners that a change won't be coming anytime soon because it's something that would have to be collectively bargained.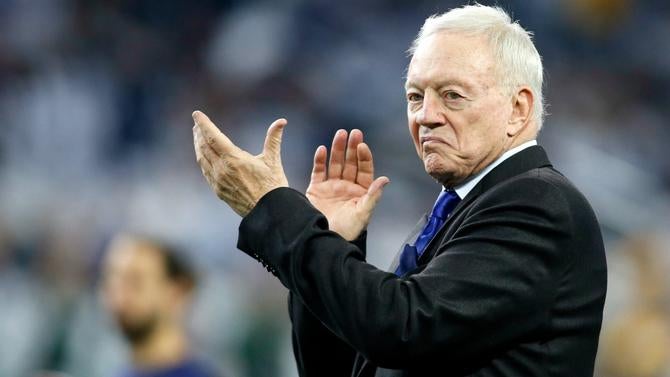 If Jones wants the NFL to dump its ban on marijuana, he'll likely have to wait until the current collective bargaining agreement expires in 2020.
Although the NFL clearly isn't ready to let players smoke marijuana whenever they want, the league has become more lenient toward the drug. In 2015, the NFL altered its pot policy and allowed the threshold for a positive marijuana test to be bumped up to 35 nanograms per milliliter. Before that, the threshold was 15 nanograms per milliliter.
Back in January, NFLPA Executive Director DeMaurice Smith suggested a more lenient policy. However, NFL commissioner Roger Goodell didn't seem very open to the idea at the Super Bowl.
If players want a more lenient drug policy, then they'll have to be willing to make some concessions in the next CBA, according to Goodell.
Under the current marijuana policy, players can be suspended after their fourth failed test.
As for Jones, he also brought up several other issues during the private meeting among owners. For one, the Cowboys owner wants all 32 owners to be involved in figuring out Goodell's annual compensation package, instead of just the compensation committee.
One other thing that Jones is pushing for is a request that the league ends "the practice of investigating off-field misconduct." It seems that Jones would rather let the criminal justice system run its course when there's an incident involving a player, and the league would then stay out of it.